Raise Your Paw to become a hero for a homeless pet!
For just $19.00 a month (.63 cents a day) you can be a hero to a homeless pet. Join
#Paws4Life
monthly giving program and help support the pets in need in your community. To show off your hero status you will also receive a
#Paws4Life
T-Shirt as a thank you gift. BFHS receives no tax dollars and is not affiliated with any national humane organization. The lifesaving work of the Benton Franklin Humane Society is only possible because of donors like you.
BFHS is a non-profit organization that receives no government funding. The homeless animals in our care rely on the generosity and commitment of donors like you.
Each year, hundreds of volunteers help us provide programs and services that simply would otherwise not be possible.
We love bringing more people and rescued pets together. Learn more about how you can help even if you don't have room for a new friend.
BFHS strives to maintain donor confidence through annual audits, secure donation platforms, & transparency. We are proud to meet the BBB's Twenty Standards of Charitable Accountability, maintain Guidestar's Gold Seal of Transparency, and publish our policies & bylaws on our website. When you give to BFHS, do so confidently & know the animals are at the heart of everything we do.
UPDATE: Snoopy is now with Forgotten Dogs Rescue and recently took a trip to Chelan, WA where he will be staying with his new foster. Our staff and volunteers gathered for an emotional farewell send-off.

To all who have inquired about adopting Snoopy, we thank you! There's no doubt about it — he's a sweet, deserving boy, and we are excited to find him his forever home. Currently, our shelter is receiving 40 to 50 adoption inquiries a day on Snoopy alone from kind-hearted people around the world. As you might imagine, this is creating a strain on our Shelter staff and resources. We appreciate your patience as we sort through all the inquiries.
Snoopy is a 9-year-old senior pit bull who was originally found stray. He is a good boy who longs for a loving retirement home, but it must be the right home. For example, he needs to be the only pet in an adult household. He also has been diagnosed with Cushing's disease and will require medication for the remainder of his life. We know that, for many, Snoopy's needs are a tall order to fill.
While we are flattered by all the Snoopy adoption inquiries from all over the nation, we encourage you to reach out to a shelter near you and adopt locally. There are dogs like Snoopy everywhere, with stories just like Snoopy's.
Rest assured that – in the meantime — Snoopy has a home with us at BFHS where he will be loved and cared for until he is adopted.
Sincerely —
BFHS wins awards in Regional Competition!
On the evening of May 19 th, 2023, Executive Director, Autumn White, accepted two regional awards on behalf of BFHS at the Project of the Year (POY) ceremony held at The Reach in Richland, WA.
The awards ceremony was the culmination of an annual competition hosted by the Columbia River Basin Chapter of the prestigious Project Management Institute (PMI). The PMI strives to "advance Project Management and enhance opportunities for success" among projects worldwide.
At the presentation-filled gala, the Chapter honored BFHS for our Emergency Management of the Tri Cities Animal Shelter project. Our project began when we answered a plea for help from the City of Pasco and the Tri Cities Animal Control Authority (ACA). It unfolded over a six-month period spanning late 2022 to early 2023. For our efforts, we were granted the following awards:
Project of the Year –

Small Category Award

(for budgets under one million dollars)

Project of the Year –

People's Choice Award

(by a vote of all gala attendees)
We are grateful for the opportunity afforded by Columbia River Basin PMI to highlight the depth of our project strategies, efforts, outcomes, and lessons before our peers. And we thank every one of you who supported us through the many challenges we faced along the way. This recognition of a job well-done is for you as well.
Buy-A-Brick for the Brick Lane Program
You can support Benton-Franklin Humane Society and honor a loved one through our Brick Lane program! Our brick program is a perfect pathway to celebrate and cherish a loved one (they also make great gifts)! With your support of $60 you will receive a 4" x 8" brick engraved with a personalized message, up to 3 lines. Show your support now by completing the form below. We'll let you know when and where your personalized brick has been laid in the pet pathway. The pets and people of BFHS thank you for your support!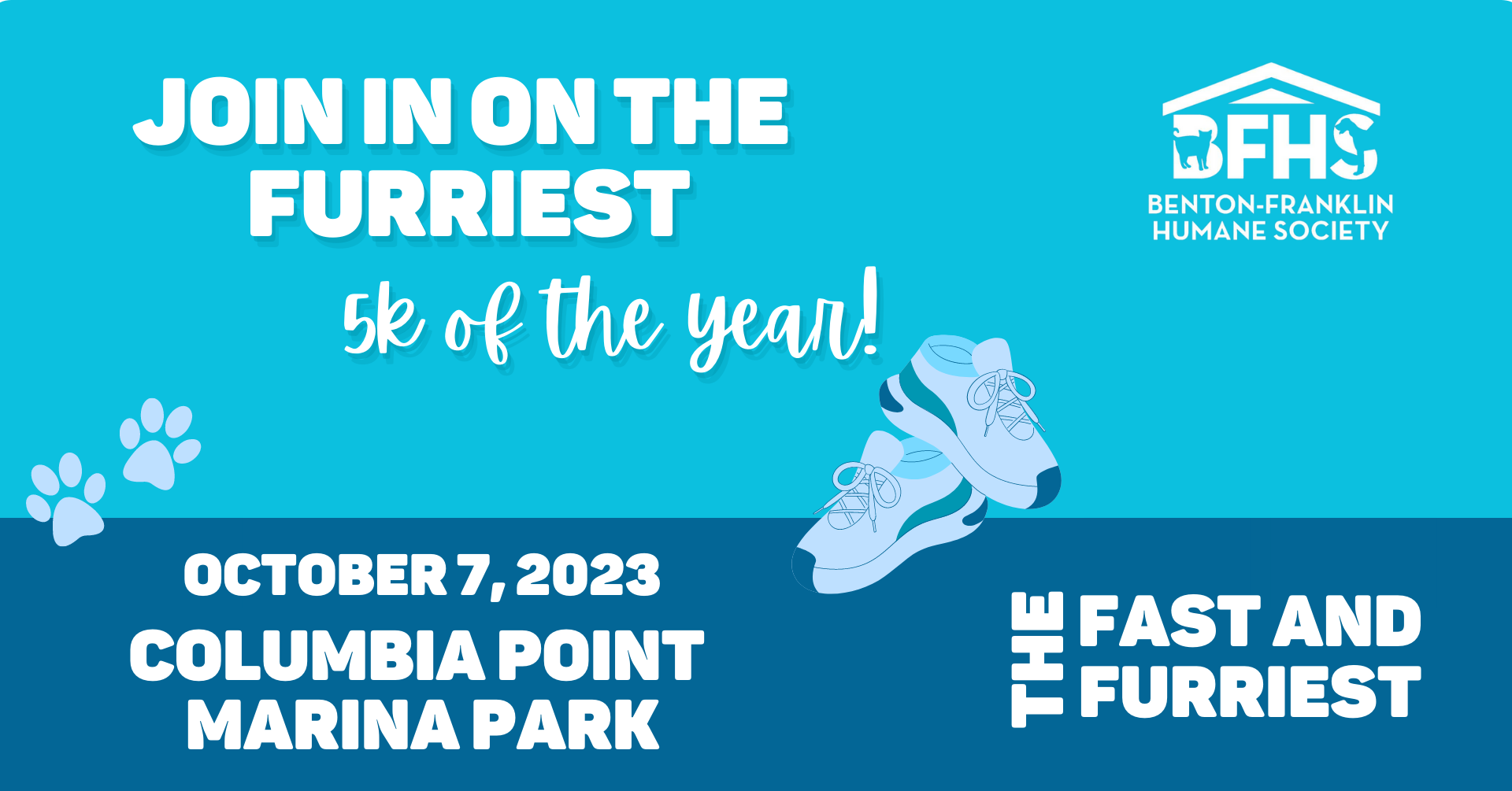 What's everyone barking about?
Our Fast & Furriest Fundraiser is just around the corner!
Join us on Saturday, 10/7/23, at Columbia Point Marina Park for a 5k or 1-mile walk/run all in support of the animals at BFHS.
All four-legged friends are welcome!
Register: https://bfhs.ejoinme.org/fastandfurriest
New BFHS Board Members Wanted
Show your support for the homeless animals in the community! Consider becoming a member of our Board of Trustees at the Benton Franklin Humane Society.

We promote exceptional pet ownership and work tirelessly to place our animals in loving and forever homes
Benton-Franklin Humane Society, established in 1966 is a private, non-profit adoption center located in Kennewick, WA. We are a shelter that receives no government funding. BFHS advocates for the humane treatment of animals through adoption, counseling, educational outreach and community services. Compassion and respect guide our actions as we strive to create a model humane community.
Don't take our word for it – here's what our clients say:
I adopted Curie several months ago from the Benton Franklin Humane Society in Kennewick… …I love being with my social butterfly"
Bella is such an amazing cat and perfect fit to my small family… I call her meow meow kitty as she is almost a perfect match for my old kitty kitty…"
Adopt a pet today to add your own testimonial of the unconditional love we receive every day from the newest furry members of our families!"
Dog Viewing & adoptions are now open to the public during our regular business hours!
Cat viewing & adoptions, food bank, & pup stop remain open to the public during our regular business hours.
Monday – CLOSED Friday – 11am-4pm
Tuesday – 11am-4pm Saturday – 11am-4pm
Wednesday – 11am-4pm Sunday – 11am-4pm
Thursday – 11am-4pm
Donations always welcome and appreciated!