Raise Your Paw to become a hero for a homeless pet!
For just $19.00 a month (.63 cents a day) you can be a hero to a homeless pet. Join
#Paws4Life
monthly giving program and help support the pets in need in your community. To show off your hero status you will also receive a
#Paws4Life
T-Shirt as a thank you gift. BFHS receives no tax dollars and is not affiliated with any national humane organization. The lifesaving work of the Benton Franklin Humane Society is only possible because of donors like you.
BFHS is a non-profit organization that receives no government funding. The homeless animals in our care rely on the generosity and commitment of donors like you.
Each year, hundreds of volunteers help us provide programs and services that simply would otherwise not be possible.
We love bringing more people and rescued pets together. Learn more about how you can help even if you don't have room for a new friend.
Please read the updated BFHS informational release from the Executive Director

We are looking for hard-working, dedicated, compassionate, people who have a heart for animals to join our BFHS team! If this describes you, we encourage you to submit an application!

* Animal Services Aide – Full Time
* Animal Services – Part Time & Full Time
* Veterinary Technician (Lead Role) – Full Time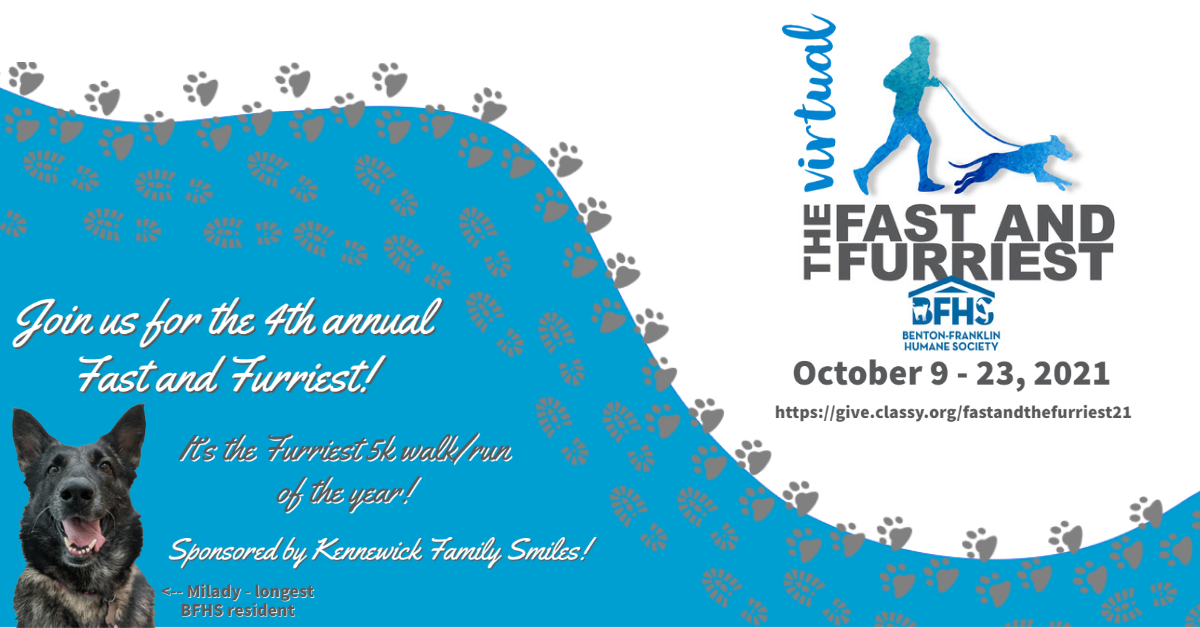 Join the Benton-Franklin Humane Society for the fastest, furriest fundraiser of the year! The Fast and Furriest fundraiser helps provide a warm bed, nourishing food, medical services, care and compassion, and other support services for animals during their stay at BFHS. The Benton-Franklin Humane Society will care for and re-home over 1,200 treatable and manageable companion animals in our community this year.
Form a team or walk/run with your favorite furry friend, the choice is yours!
October 9 – 23, 2021

S
ponsored by Kennewick Family Smiles – Dr. Isaac King, DDS
Buy-A-Brick for the Brick Lane Program
You can support Benton-Franklin Humane Society and honor a loved one through our Brick Lane program! Our brick program is a perfect pathway to celebrate and cherish a loved one (they also make great gifts)! With your support of $60 you will receive a 4" x 8" brick engraved with a personalized message, up to 3 lines. Show your support now by completing the form below. We'll let you know when and where your personalized brick has been laid in the pet pathway. The pets and people of BFHS thank you for your support!
We are paws-itively grateful for the incredible support from our friends at Charity RX. It is through the unwavering support of companies and individuals alike that we strive to provide every animal a 'beacon of hope' for that safe & loving forever home they all deserve.

New BFHS Board Members Wanted
Show your support for the homeless animals in the community! Consider becoming a member of our Board of Trustees at the Benton Franklin Humane Society.

Please read the BFHS informational release regarding our commitment to prevent disease.

We promote exceptional pet ownership and work tirelessly to place our animals in loving and forever homes
Benton-Franklin Humane Society, established in 1966 is a private, non-profit adoption center located in Kennewick, WA. We are a shelter that receives no government funding. BFHS advocates for the humane treatment of animals through adoption, counseling, educational outreach and community services. Compassion and respect guide our actions as we strive to create a model humane community.
Don't take our word for it – here's what our clients say:
I adopted Curie several months ago from the Benton Franklin Humane Society in Kennewick… …I love being with my social butterfly"
Bella is such an amazing cat and perfect fit to my small family… I call her meow meow kitty as she is almost a perfect match for my old kitty kitty…"
Adopt a pet today to add your own testimonial of the unconditional love we receive every day from the newest furry members of our families!"